Brenda J. Clark Renews Portraiture Work—Painting of Three Sons with String Instruments Stirs Joy
05.2009
"I had never commissioned a painting before until I approached Brenda with the idea of a portrait of my three teenage sons," said Kerry Murdock of Grand Junction, CO.
The occasion was a surprise Mother's Day and 25th anniversary gift for Kerry's wife—Joy, the boys' mother.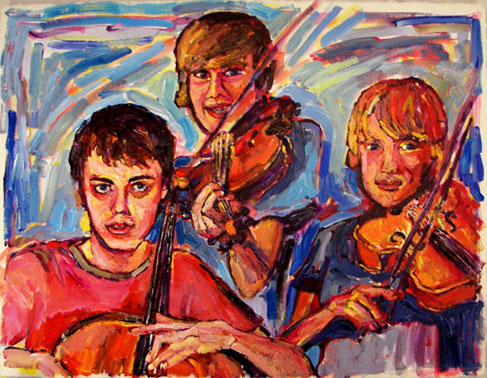 "I found Brenda easy and fun to work with. During her work on the painting, she kept me posted continually as to its appearance, and she was very sensitive to ensure that I was satisfied with the portrait."
"We do not live in Michigan, so Brenda had to complete the painting from my verbal descriptions of the three boys and from many different photos of them that I sent her. She did not actually see the boys in person until after the painting was complete."
"I was more than satisfied. I loved it. In fact, it was amazing what she produced and how she nailed the personalities of the boys holding their string instruments. I love the abstract nature of the work, and I'm so glad that I commissioned Brenda to do it."
"We gave the portrait to my wife on Mother's Day 2009, and she was overjoyed. We have it hanging in our dining room as a constant reminder of the boys. It will be there long after the boys have left home and it will always remind us of the special time when they were teenagers," added Murdock.
The portrait,The Murdock Boys—Nic, Andrew & Joshua was completed in May, and framed by the gallery in a contemporary way.

If you have an interest in commissioning a portrait of a family member, a friend, pet, boat or cherished object(s) of significance, please send an email to clarkbb@msu.edu, or call the gallery at 231.271.2323.
To view more portraits, please visit Portraits .