My Childhood Homestead—Growing Up On the Farm
07.2007
My husband, Johnston, often asks me if anything connects between growing up on a farm and being the kind of painter that I am. While this farm-and-painter question is not really something that I dwell on as an artist, there probably is a connection. Maybe, I would call it a perk!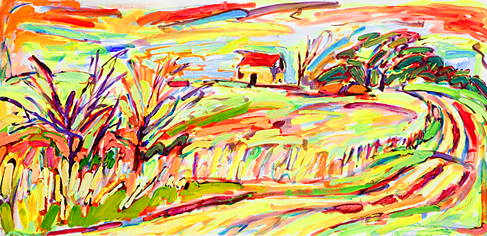 I grew up 10 miles north of Green City, Missouri, on the Clark homestead that was owned by my father's father and his father's father. Our house was tiny...only two bedrooms upstairs—one for mom and dad, with my older brother, Damon, and I sharing the other. We lived on the farm until I was in 6th grade.
During October of that year, the house burned to the ground while we were at school...leaving mom and dad and us kids with only a television, stamp-book rocker, coffee table and two end tables—all yanked from the living room on the opposite end where the house caught fire. Everything else was lost—including all of my childhood items. Mom, dad, my brother and I lost all of those sentimental things that tend to shape one's life.
While the tale of how the fire happened is an odd story, we were thankful that my mom was able to escape that morning around 8:30 a.m. with only burns (that eventually healed). My brother and I arrived home with Granny, watching and following the towering smoke all the way from the school to our farm. It was probably the first time I ever saw my father cry.
Indeed, growing up on the farm has many memories: 12 years of getting very involved with farm work and farm play.
My Hoe
Some of my fondest memories are of working in the garden with my mom. I loved to hoe...and I was good at it—very tidy and efficient about getting out those weeds without chopping off the plants. We had two huge gardens. And, of course, we helped Grandma and Grandpa Montgomery with their gardens, too. I was also good at planting. I could reach into the bag and grab just the right amount of seeds it took for the corn or whatever we were planting. My brother, Damon, did not enjoy it quite as much. He was a bit more entertained with finding worms, then chasing and scaring me with them.
Riding Herd
Minus the fussing and teasing, Damon and I were a team on the farm. We each had a horse. Colty was my Shetland pony, who I finally got to gallop after many months of trotting. Damon's horse was named Paint—a large pinto with brown and blonde patches.
We rode our horses to count cattle for dad. We also used them to herd and move the cattle from one farm to the other—some five miles apart—starting early in the morning around 5 a.m. Our job was to make sure that the cattle did not get on neighboring lawns or scurry through open fences. I only recall one time that the cattle found an open fence that we missed along the highway. In an instant, all of the cattle took off so fast—stampeding through the opening into a barren field. It was on that trip that I learned to gallop Colty. On the way back, my dad slapped her on the butt and off I went galloping to my surprise. It certainly was much more comfortable than trotting everywhere.
We were very little when my older brother and I started doing all of this work with the cattle. Having two little girls now, I can't imagine how we were allowed to help as much as we did and that more cattle did not get loose.
Mischief's Land
Our horses were nothing fancy; they were used for work. Colty and Paint gave us friendship; they were our pets. We learned how to groom and saddle our horses as part of our responsibilities on the farm. We did not show them in 4H or participate in the rodeo barrel racing as my girlfriends chose to do. Later, I had to choose between softball and 4H, and I chose softball. I was never truly a cowgirl...just a farm girl who had a horse.
Venturing into mischief's land, we would race our horses in the creek. Sometimes we would stop to catch minnows. When our city cousins visited, we became trainers because our cousins always wanted to ride. There are many other horse stories that I am sharing with our oldest daughter, Helene Claire, who enjoys her own storytelling right now. I'll do the same when Flora June has grown a little more and is fully conversing. In retrospect, I suppose that I soaked up many glimpses of the farmland around me while riding atop Colty. It was a perspective that I otherwise would not have known.
Great, Grand, Huge
There is a great gravel road that takes you to our old farm. So long, winding and dusty, it is still there and seems to be a great part of my memories of the farm. We rode our bikes up and down this road many times and occasionally all the way to Highway 129, stopping at the neighbors along the way.
Mom always knew when we were nearby. We were constantly reminded not to argue when we were off riding because all of the neighbors could hear us. The road still has those slight ups and downs and serves as a grand entry into the farm where the house once stood. The old barn is still standing, although the garage, hen house and other outhouses have all collapsed over the years.
Mowing the lawn—our huge lawn—was part of what we did as kids (and for both sets of grandparents). Mom was very detailed, and I suppose we caught on from her about grooming the lawn. Missouri (the Show Me state) does that...we trim and trim and make sure the lines are straight when we cut the lawn—a little unlike our more natural, northern Michigan grooming.
All of the details of growing up on a farm seem unique for me. Perhaps, I take it for granted that everyone has had this experience. I have so many stories from that time on the farm.
More Stories
Once, when Damon and I were riding in the hay feeder while my dad was moving it, a skunk surfaced, scared from underneath the leftover hay. No, we didn't get sprayed. And there was the jumping of ditches on our horses. Yet when I walked Colty by rein across the ditch one day, she stomped on my foot. Many lessons are learned, ironically enough, through trial and error.
The City
When the fire took our home, we moved into Green City—just off the town square. We would never move back to the farm, but at the time it didn't make me cry. All of the new things in town were of interest to us as two growing children. Looking back as an adult, I truly treasure what fueled my livelihood as a kid. Even though our family home is no longer on the old homestead, I still have vivid memories and emotions about how we lived on the farm and what it meant to me.
A couple of years ago when I painted up at the farm along side of that road, my mom, Helene Claire, Flora June, and Johnston were along. Suddenly, from over the horizon, a couple of ranchers rode up on their horses to check on some cattle. They were curious who we were, not realizing that it was our farm they were working on as employees of the man who rents the land. What a treat for the girls to see...two real cowboys. What a treat for Grandma, Johns, and me, too. This is the kind of experience that I remember: Working hard, straight from the heart, real drama.
Passion
I believe the passion that I have for my memories is close to the passion that I attempt to capture when I paint. No one may quite understand my color choices or my mark making. Yet, I hope that most develop some feelings from my paintings, and that these feelings stir them to think, examine, and imagine. Such thinking is all that I want , along with the subliminal beauty of the paint stroke.

This article has been reprinted from a Brenda J. Clark Gallery newsletter.
Download the entire issue here:
Brenda J. Clark Gallery summer 2007 newsletter
(672 K) Adobe PDF