Omena 'cross the Bay
Acrylic on arches paper
23" x 15"
(Sold)

Looking across Omena Bay at the village itself, where one can count the buildings, and its bay glistens with summer's light.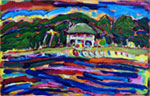 Omena Yacht Club Charm
Acrylic on arches paper
16" x 10 1/4"
(Sold)
Completed late evening which inspired some detailed strokes for a bit of realistic charm. Please feel free to request a larger image.