L'glise de Cucuron
The Church of Cucuron
Acrylic on arches paper
4 1/4" x 5 1/4"
(Sold)
Catching up on my studies, the church stands proud
as I paint from the outskirts of Cucuron.
Painted on location in Le Luberon, Provence FRANCE. Return to France .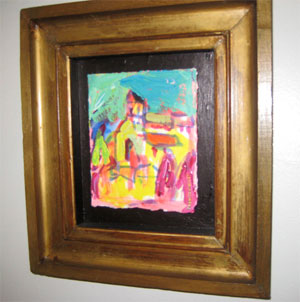 This painting on arches paper is floated in a shadow box with a custom finished frame by, Johnston, to complement the palette of the painting. It is free of glass.