Fall for Art in Leelanau County tour
09.2006
Brenda J. Clark is the featured artist in this year's second annual Fall for Art in Leelanau County tour, Columbus Day weekend, October 6–8, 2006.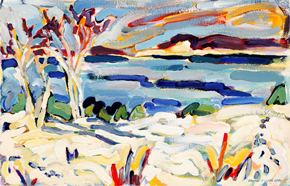 Her painting, Blue Winter Breaking has been the featured image on all of the Fall for Art literature.
When the grand prize drawing takes place at 3:00 p.m. on Oct. 8 at North Restaurant just opposite Little Traverse Lake in Leelanau County, Michigan, the winner will take home an original painting of an autumn scene done on location by Brenda J. Clark.
For more information about the tour or about commissioning Brenda J. Clark for your own original painting, please send an e-mail to clarkbb@msu.edu.