Brenda J. Clark Gallery Launches Fine Art Internship Program
07.2011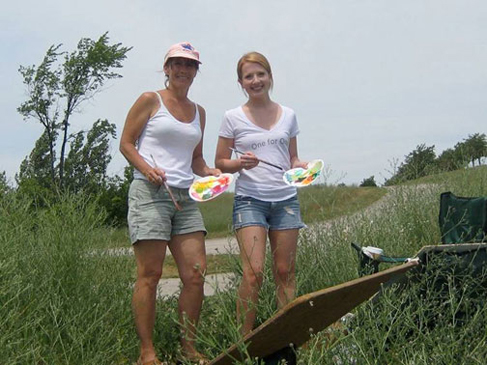 Suttons Bay - Katherine Miller of Leland, and a senior at Wake Forest University, has been selected as the first intern of the Brenda J. Clark Gallery.
Miller is studying Art and majoring in Painting. She will work throughout the summer in several capacities with the gallery, as an understudy to the artist, Brenda J. Clark, and as a special assistant to Brenda's spouse, Johnston M. Mitchell.
As part of her role, she will accompany Clark on location to paint, and work with the artist during gallery workshops to be held for both children and adults on the back lawn at the gallerys location in Suttons Bay. She will also assist with communications and framing projects, and manage the gallery a couple of days each week. "I'm so happy to have this internship opportunity, and want to absorb as much as I can from Brenda about painting, as well as learn about how a gallery operates," said Miller.
"The gallery is very excited, too. Having Katherine on board as our first intern will enable us to do more things from painting on location to holding special events such as workshops and evening activities for our visitors and patrons," said Clark.
Clark has a Master of Fine Arts (1989) from Kent State University and was a professor in the Department of Art at Michigan State University from 1989-1999. Mitchell spent 11 years working throughout Europe and holds a Masters in Journalism and Business Administration (1985) from The University of Georgia. Each have received three Artist-in-Residence grants from the state of Michigan.
The Brenda J. Clark Gallery is in its eighth year of operation, and is located at the corner of Adams St, 408 St. Joseph Avenue (M 22) in Suttons Bay. It will offer an internship to a fine art undergraduate student each summer.





Brenda J. Clark (left) and fine art intern, Katherine Miller, painting on location off of Dumas Road, just north of Suttons Bay.