ArtPrize Installation at DeVos Place in Grand Rapids
09.2009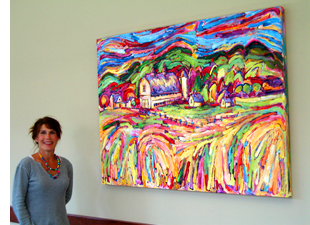 Brenda J. Clark's large scale painting, DH Day's Awe, is now on display at DeVos Place in Grand Rapids, Michigan.
On Thursday, September 10, 2009, Brenda transported DH Day's Awe to Grand Rapids to install it for the first ever ArtPrize competition.
DeVos Place issued a news release about their first ArtPrize installation of Brenda's work.
ArtPrize kicks off on September 23, 2009, with Brenda being one of 1,200 artists to compete for over one-half million dollars in rewards.
The attending public will act as the jury for this cultural and fine art phenomenon, with the top 10 finalists announced on October 1. The winner and order of finish for the top 10 will be announced on Oct. 8, 2009, after a second round of voting by the public.
To learn more about Brenda's ArtPrize work, DH Day's Awe, please visit her profile on the ArtPrize website.
For voting information, please send an email to clarkbb@msu.edu, or call the Brenda J. Clark Gallery at 231.256.0026.