Dialogue, interaction and technology drive our commission process
The Brenda J. Clark Gallery believes that a dialogue with the client leads to a successfully rendered commission.
Early on, the gallery explores the scene and perspective, size, medium and palette with the client.
Size is often a function of where the client intends to hang the commissioned painting. Using computer software, the gallery can take an existing image that reflects the palette and type of scene desired, size it to determine optimal dimensions, and place it on the proposed wall of the client's home. Viewing this image via email allows the client to see how a Brenda J. Clark painting will look in their home.
After the commission details are finalized via email and phone conversations, the gallery has a stretcher custom made by a local wood craftsman.
Brenda then heads out on location to do a study, which allows her to formulate the composition.
Once Brenda begins to paint the actual commission, the gallery emails photos of the painting's progress that are taken during every session to keep the client informed.

These images allow the client regular glimpses of Brenda's creative process. The client sees the bold mark making stroke by stroke and witnesses the building up of layers and texture—all fundamental aspects of Brenda's Expressionist style.

Once the commission is completed and has been shipped to the client, the gallery sends a CD of all of these images.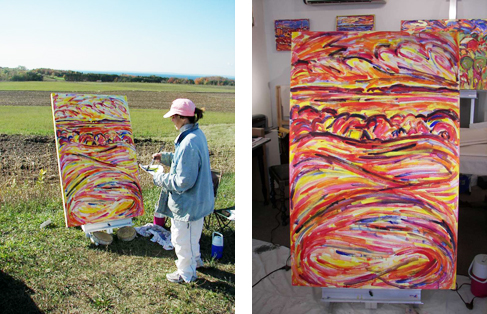 The gallery offers a convenient two-part payment plan. It receives 30 percent up front along with a signed Purchase Agreement, and the balance is due upon receipt of the painting by the client.